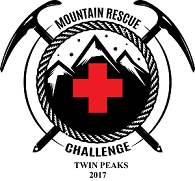 THANK YOU!! To all our participants and all our sponsors! What a great group that turned out on Saturday to support our cause. We can't thank you enough, and we hope that you had as much fun as we did. That said, we are open to feedback to make next year's event even better. Or if there is something you don't want to see change, let us know that too! Send us a note to race@amrg.org. Also shoot us a line if you see anything amiss in the race results posted below:
---
When: Saturday, October 7, 2017
Where: Eklutna Lake

• Twin Peaks Trail 3Mile Mountain Race, Limit 100 Runners – Starts 10:00AM
• Edlu Bena Loop 3Mile Trail Run/Walk – Starts 11:30AM

What: A fundraiser for the Alaska Mountain Rescue Group to purchase a new rescue vehicle for towing in order to maintain, service, and deploy our rescue snowmachines. Having a winter-ready mission vehicle will increase our response capabilities in the wake of state funding that may decrease availability of Alaska State Trooper helicopters. Thanks to community support last year, we were able to purchase a new snowmachine trailer/Incident Command Post. We are now raising funds for a towing vehicle.
---
SPONSORED BY:
Main Sponsor:
___________________________________________________
>